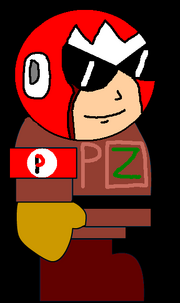 protoman
sueproeegee
protoguy(protoman's second cousin)
blues(protoman's cousn)
gerard(New general)
Memy9909(new second general)
deegee
puralleo
zalleegee
zeegee
mario
malleo
zadallero
zolleo
zoegee
999,999,9999 protoziis soldiers
namagem
epic face
45 youtube destroyers
5 weegee clones
ash ketcum
pikachu
MISSINGNO
Dagello
spies and ninjas
Edit
a** ketchup
rick astley
PSY
elevator guy
gangnamgee
Llyod
spy
engineers and scientists
Edit
engineer
steve
stevegee
???(a mystery member)
former members
Edit
oggy
jack
justin bieber
russmars2
new members
Edit
red bird
green bird
geegee
jeegee
keegee
zack
yuto
dexter
baxtah
dead members
Edit
Description
Edit
Protoziis(known as Proto Zs) are The new army,protoman is a former general,Gerard is a new general,They fight weegee haters.
Attackers
Edit
it means their enemies
Evileegee
The bad adults
Evilleo
Spongebob fans
Jm(john michel,he is always rude to gerard)
puralleo(now hypnalleo)
PJ(Jms little brother)
Netherbrine
Youtubers
Baxter
Fist man
Zakawer
Spongebob
Jacobewers 
Megaman(Former attacker)
Ad blocker interference detected!
Wikia is a free-to-use site that makes money from advertising. We have a modified experience for viewers using ad blockers

Wikia is not accessible if you've made further modifications. Remove the custom ad blocker rule(s) and the page will load as expected.